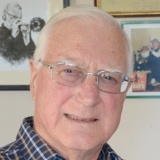 Tel. 0117 968 2653
Reg was born in Gibraltar in 1933, a 4th generation Gibraltarian. He qualified at Guy's in 1957 and then worked for a year as a children's dentistry intern at the Eastman in Rochester NY. After that he was about to return to the UK when Basil Bibby (Director at the Eastman) offered him the opportunity to do research and enrol […]
Reg was born in Gibraltar in 1933, a 4th generation Gibraltarian. He qualified at Guy's in 1957 and then worked for a year as a children's dentistry intern at the Eastman in Rochester NY. After that he was about to return to the UK when Basil Bibby (Director at the Eastman) offered him the opportunity to do research and enrol in a 2-year MSc course. He played lots of tennis and squash, representing the City of Rochester in the National Squash Championships in 1959. Before leaving the States he set out on an 8000-mile round-USA camping trip with two friends, returning home to Gibraltar for Christmas and back to the UK in January 1961 to join a dental practice in Bristol.
Reg married Christina in 1963 and considered returning to Rochester, but the following year the first of two daughters was born, which put a brake on that idea. Then, by chance, he met an old friend who was working in the newly-established MRC Dental Research Unit based in the School and who encouraged him to apply to join. This chance meeting changed the course of his life because Arthur Darling, impressed that he had worked under Bibby in Rochester, offered him a place in the Unit, which led to a PhD in 1965 and a University-based career culminating as Senior Lecturer in Child Dental Health. In 1982 the first of four editions of 'A Manual of Paediatric Dentistry' was published and he became Dental Clinical Dean, a post he held until his retirement in 1988.
For many years he played league tennis and squash (tennis for Clifton Lawn Tennis Club and squash for Hospitals) and along the way qualified as a coach in both tennis and squash. In 1997 he cycled the length of Spain from Santander to Gibraltar with an old friend from Guy's – neither had cycled since their youth but they set off after minimal training on newly purchased bikes. He wrote a book about it: 'A Trans-Iberian Challenge – Cycling Through Spain'. Other leisure pursuits have included playing trumpet in a jazz band, The Muskrats, until 2013.
Reg has been Chairman of the Bristol Dental Alumni Association since 1990, a post he holds to this day. Having suffered a stroke in 2011 he now enjoys a slightly less active life.