Reports received of reunions held up to 2013 were published in our annual printed newsletters
The '66 Soc. reunion held in February 2015
Bob Binnersley
The Society held its 48th reunion meeting at the Bristol Hotel on Saturday 28th February 2015. Twenty-four members and guests attended and enjoyed a pleasant evening. The reunion dinner was held in a private room that, although sparsely adorned by the hotel, provided an ideal venue for the meal and socializing afterwards.
Members travelled from various parts of the country including Devon, Shropshire, London and even as far away as Hotwells.
Sister Davison and Reg Andlaw were notable guests and their presence and support for the reunion meeting was much appreciated by members. Jo Baker presented Sister Davison with a bouquet of flowers to celebrate her forthcoming one-hundredth birthday later this year. Bob Binnersley uttered a few words, outlining Sister's career and her achievements including her award of the British Empire Medal for services to The National Health Service and charity.
The Society has convened annually since 1966 and has had excellent support from an enthusiastic membership over the years. Any person who has not attended lately and would like to be included in next February's invitation list should contact Bob Binnersley via the website contact pages.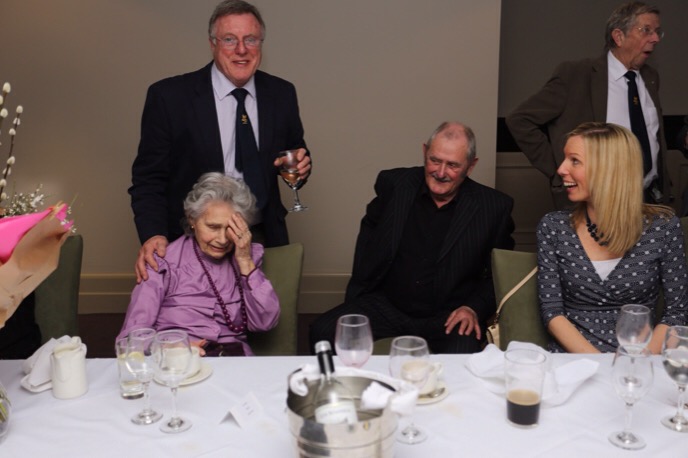 The 89 reunion held in November 2014
Helen Chapman and Louise Barlow
After a gap of 10 years Helen Chapman and Louise Barlow felt it was high time for a get together, especially as we would be celebrating our silver jubilee!
A little detective work using the GDC register meant we were able to track down the majority of the year group and 19 of us made it to the event, held On Saturday 15th November, at The Hotel Du Vin, a great venue, with perfect intimate surroundings for our small year group.
Most of the group met at the Dental School on Saturday afternoon and were taken on a very interesting tour by Professor Stephens and Nikki Atack. It has changed completely since we were there; most notably the library (there are no books) and the car park which now houses the Chapter House. The Hathorn Bar (although shrunk to less than half the size) brought back vivid memories of Louise Seery as Cilla Black doing Blind Date back in the 80s!
After some considerable time spent reminiscing we went our separate ways, some only as far as The White Hart and some to the bar at the Hotel du Vin.
At 7pm, along with partners, we met up again for drinks and canapés followed by a meal in our private dining room with an 80's soundtrack playing in the background (well spotted Tony Coelho). Prof. Stephens had kindly joined us and graciously said a few words without even trying to sell us his new book! The evening passed with much hilarity and amazement that none of us had changed a bit and as expected, there were a few propping up the bar until the early hours! The even more remarkable thing is that we are all still practising dentistry in one form or another, although many of us researching our exit strategies!
Everyone seemed to enjoy the evening. We all agreed it had been too long and we will endeavour to meet up again in 5 years' time. Hopefully even more of the year will be able to join us then.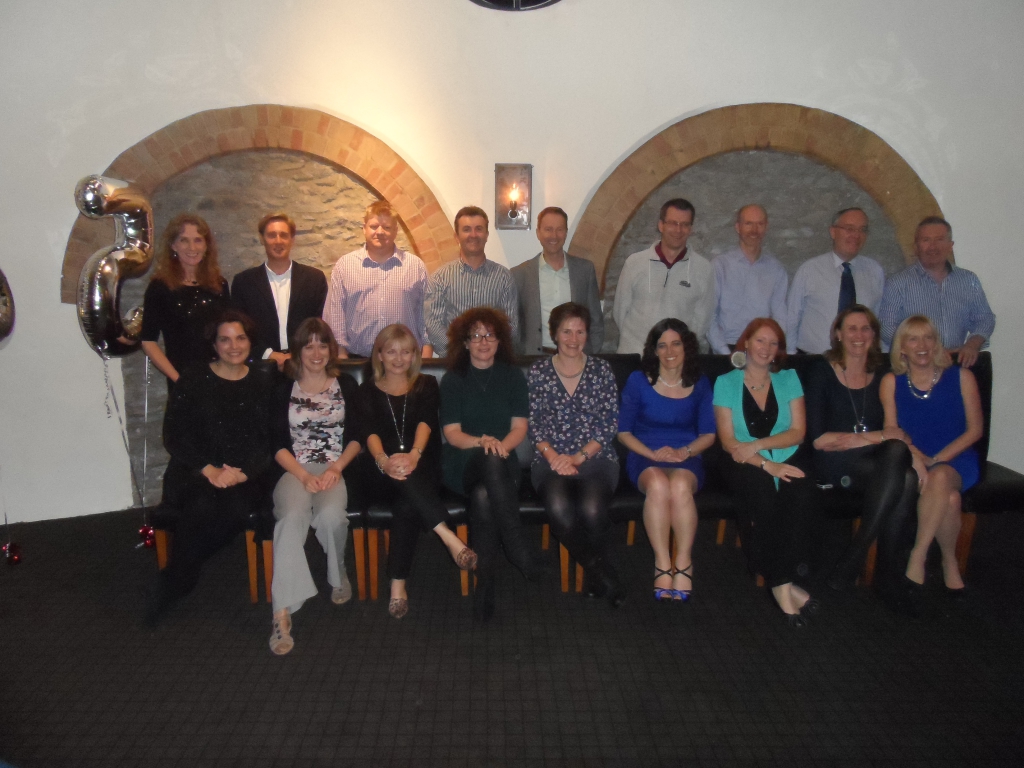 Back row left to right: Michelle Flemming, Nick Radcliffe, Mark Haseltine, Pete Andrews, Jez Peak, Alex Rogers, Mike Goldsmith, Tony Coelho, Les Robinson.
Front row left to right: Lynda Dunham, Nicky May, Annie Whitby, Louise Barlow, Karen Wilson, Emma Chorout, Nikki Atack, Helen Chapman, Jane Roberts.
Sarah Cavallo was also there, but unfortunately somehow missed the photo!
The 69'ers reunion held in September 2014
John Green
"Come to Wells and celebrate 50 years" said the invitation from John & Rachel Lover – "50 years of what?" came the replies. Er…..since becoming a student? Let's make that 49, although for us 1st BDS types it really is 50 years since we packed a small suitcase (instead of a large van) and set off for student life in Bristol. For the 19 who descended on Wells it's nearly 45 years since we graduated. Remarkably five are still working but the rest of us are busy being fully retired.
Even more remarkably we had three out of our five international members present including Martin Brown from South Africa, Ronnie and Marlene Ramsay from Barbados and Tony & Linda Wild from Perth, Australia. Penny Leggott, from Seattle, was at an academic conference and sadly John Garforth's wife Daisy wasn't well enough to travel from Vancouver. Medical and family reasons also prevented Pam Kedge and John Stone from coming, not to forget an hilarious email from Phil Simmons giving his medical reasons for absence in graphic detail.
We were very well entertained by John & Rachel, starting with military-strength champagne cocktails and a traditional British Friday-night curry at their house in the centre of Wells. We were based at the Crown, a 16th century coaching inn right next to the Bishop's palace and Cathedral, so Saturday for many was a leisurely stroll around the open air market followed by sightseeing.
The Bishop's palace was in the news in recent years with a local protest against plans to end 800 years of a bishop in residence. Thankfully tradition prevailed although a large moat and drawbridge might have come in handy if things went wrong. Apparently the swans are now less inclined to ring the bell to demand food as the tourists keep them well supplied with pasties. In any case the bell rope has been removed as the ducks had learnt demand feeding!
Saturday evening saw the world premier of two "art house" films from the 1960s after a lavish dinner at the Crown, which included 'Old Spot' pork and local Cheddar. I think they said Art House but I may have confused it with the "House of Fun" aka Bellevue Crescent. Somehow, between lectures, clinics (and editing between final exams) Drs. Hartley, Hughes, Hutchinson, Lover, Whitehouse, Wilkins, Garforth, Hodges and Holding managed to make horror movies including "The Undergraduate" and "Incompetence". An uproarious hour was spent watching the cast including Mick Whitehouse as a zombie, complete with simulated heart removal and Paul Hughes as a very convincing Dr.Crippin-like landlord, with car chases, rooftop fights and even a bunny girl! Apparently there was a prequel involving Mick in a gorilla suit being pursued through the city centre prompting the question – how did they get away with it?
Sunday morning saw John & Rachel leading us up Glastonbury Tor to clear our heads. We resisted the urge to don afghan coats, beads and flares and settled for the retirees uniform of walking boots and Berghaus clothing. The view from the top (525ft) takes in the Somerset Levels so we could appreciate the impact of last winter's flooding and the lack of dredging which made it worse. John's Rotary Club was very involved in flood relief work from a huge warehouse that distributed donated goods to the victims.
The weekend ended with lunch at the Crown and agreement to meet again before the actual 50th anniversary of our graduation in 2019. John & Rachel's planning and hard work on our behalf will be difficult to match but hopefully a volunteer will be found. I know we have already thanked them personally but a written record of our appreciation is the least we can do for a task – Well Done.
Here are photos from the weekend…the second with partners. Click on the image for a higher resolution!

The first picture includes the following graduates in approximate order from L to R and the second includes partners.

Jeff Watkins, Mick Whitehouse, John Lover, Roger Hartley, Sue Browse, John Tingle, Rowan Moorwood, Anita Hedgcock, Ronnie Ramsay, Martin Brown, Emily Tingle, Rob Evans, Tony Wild, Kate Gunnery, Neil Spaven, John Green, Dennis Hutchinson, Paul Hughes. (Lyn Holding joined us for Friday)
 The 68/69 reunion held in October 2014
Chris Barton
In a break from previous reunion meeting venues, we spent the weekend at Bath staying at the 4- star Combe Grove Manor Hotel in Monkton Combe. It had been decided that we did not need to make a further return visit to the Dental Hospital this year. Seventeen of us with some partners assembled to celebrate the 50th anniversary of when we first met in the anatomy dissection room in October 1964.
Our visit started with some confusion when some tea was ordered on arrival, which eventually arrived in the form of a full afternoon cream tea, sandwiches and cakes for 20 people, which had not been ordered and eventually not charged for! We were looked after well and enjoyed some of the facilities of the hotel, the pool, walks in the grounds and an excellent buffet supper on the first evening. With plenty of news to catch up, it did not take long for a very relaxed atmosphere to develop and to realise that none of us had changed a bit.
After breakfast the following morning, we booked taxis to take us into Bath for a most interesting two-hour guided walking tour of the city, followed by lunch and time for some shopping.
The Saturday evening event was a formal dinner with 25 present. This commenced with us remembering Nathan Grossman who sadly died in March 2014, and news of several other absent colleagues. As the evening continued and the wine flowed we made our own entertainment with derogatory comments and long-forgotten reminiscences. Frank Holloway recollected his time as BDA President in 2012.
Following dinner, Dan Glover gave us a word-perfect recital of both parts of Albert and the Lion and Albert's return in a faultless Stanley Holloway accent. Then the obligatory photo session thanks to Pete Easton.
At the leisurely breakfast the following morning, all agreed it was a great weekend and worth repeating in two, three or four years' time.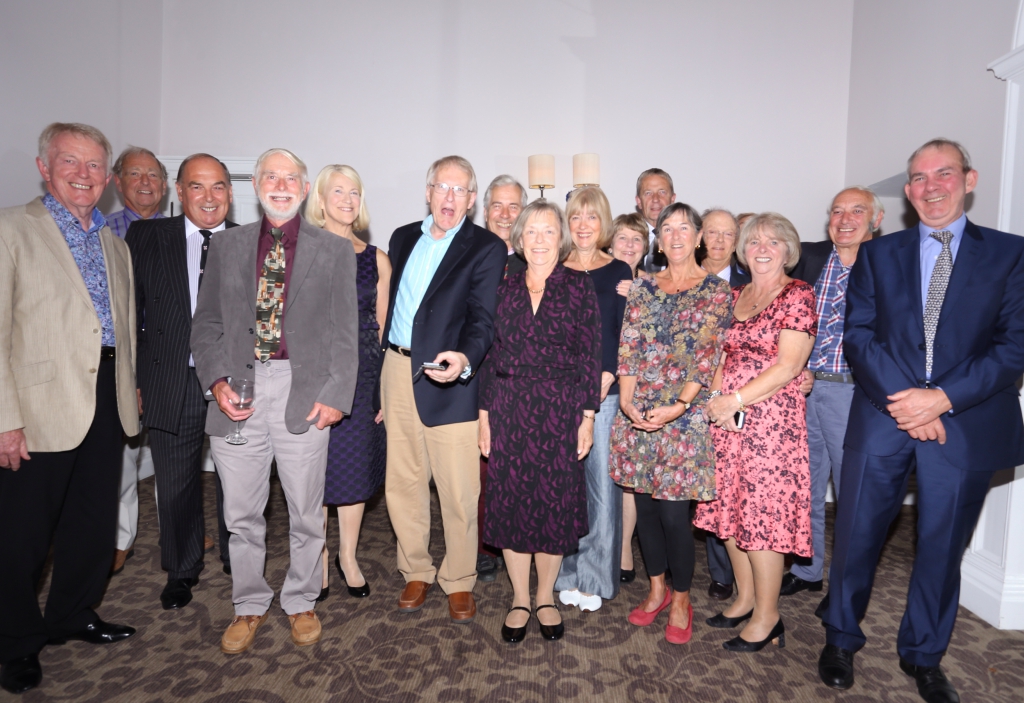 From left to right:
Rod Smith; Tony Miles; Dan Glover; Chris Barton; Rosemary Henderson; Pete Easton; Tony Lynn; Jill Gorham; Jane Lynn; Lisa Jones; Frank Holloway; Pat Hutton; Terry Willcocks; Yvonne Willcocks; Peter Keaton; Geoff Daddy.
More photos from the event can be found by clicking here
The 74 reunion held in November 2014
Shirl Scola
Realising it was our 40th (Ruby) anniversary this year Anna Holder, Ang Cropper and Shirl Scola decided a year ago to organise a reunion in Bristol to celebrate. Saturday 15th November 2014 was agreed upon and the planning went ahead.
Despite family commitments, and some people absent through illness, 20 of us managed to get together on the day. Although we were a smallish group, we had a great time catching up with each other's news. As most are now retired there was very little dental conversation!
Two of the group were singled out for special awards: Mike Fleetwood as the person who had travelled the furthest (from Gundaroo in Australia), and Ron Gribbin, who had qualified as a sprightly 42-year-old but had not managed to attend any previous reunions – but he definitely had the most stamina as at midnight he was heard to say "Goodness, is that the time, it only seems like ten o'clock".
The enjoyment and success of the evening was largely thanks to Ang Cropper who did most of the organising, including liaising with the obliging and friendly staff of the Holiday Inn.
Best wishes were passed on from those who were unable to attend. A list of contact details has been distributed to the group so that renewed contacts and friendships can be continued.
Year of '99 Reunion held in September 2014
Carl Fullaway
The class of 1999 celebrated its 15 years with a Charity dinner on Saturday 27th September 2014
It was tricky, as ever, getting hold of everyone and getting them together on one night. However, mostly through the wonders of facebook and personal contacts 32 people managed to attend out of the year including a few partners aswell. We were delighted to also be joined by Chris Bell and Adrian Watts.
The charity dinner was held at The Thistle Grand Hotel with a drinks reception, 3 course meal and disco. The room was delightfully decorated and perfect for our needs. Although there was a disco, not much dancing was achieved as people were mostly swapping stories and catching up with old friends.
We decided to raise money for Friends of Bristol Haematology and Oncology Centre in memory and celebration of Eleanor Pearce, known as Eleanor Pardon who sadly died on 4th January 2013 after valient fight against cancer. After dinner Louise Kneafsey read a dedication that Alice Aitken-Davies, one of Eleanor's close friends had written but was sadly unable to join us as she had just had a baby girl (congratulations)
After this we had a raffle with prizes including a bungee jump, and remote control helicopter.
There was also a silent auction with one of the group generously donating a weekend away in their holiday cottage in Devon. It was great to see everyone again and catch up on what everyone was up to aswell as reminissing and looking through the year book.
Due to the generosity of our people buying/being slightly pressganged into buying raffle tickets aswell as the slient auction and some money from the ticket sales we were delighted to be able to donate £925 to Friends of Bristol Haematology and Oncology Centre a charity that was very good to Elearnor and selected by Eleanor's family.
A great night was had by all and at the end of the evening we parted our separate ways again for another 5 years.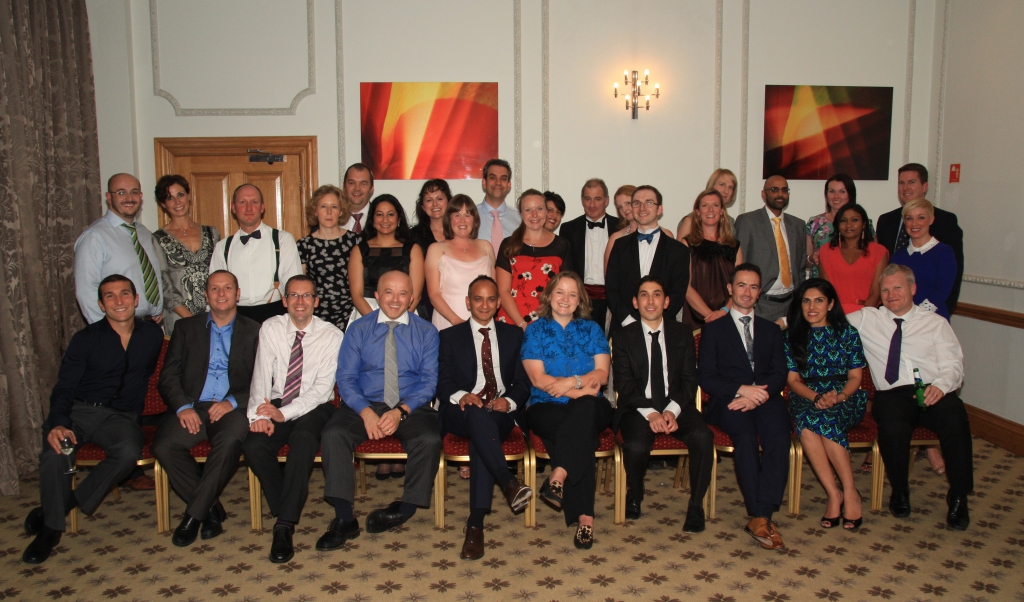 Back Row: Craig Pearce & Partner, Adrian Watts, Sarah Pape (French), Roy French, Arwa Al-Khaburi, Partner of James Uberoi, Suzanne Jeffery (Fleming), James Uberoi, Sarah Shah, Catherine Breach (Bently), Chris Bell, Louise & Carl Fullaway, Louise Kneafsey, Caroline Hardcastle (Gabriel), Jonathan Zammit, Nicola Lawton (Pinnock), Fathimath Ibrahim, Thomas Foulger,…
Front Row: Julien Lomax, Andrew Jeffery, Neil Gerrard, Neal Shah, Hannah Pepper (Myatt), Jessen Armed, Daniel Zillwood, Jyoti Khosia (Lall), James Goodlad
Here are other photographs of past reunions. More will be added in due course.
1976 reunion, 5-6 November 2011
Back Row: Hugh Devlin, Raman Bedi, Dave Reekie, Steve White, Paul Davies, Dave Hardy, Paul Baines, Pete Grime, Jackie Thackeray, Bill Falconer Hall, Neil McDonald, Carol Robinson, Geoff Van Beek, Peter Duke.
Front row: Jane Wood, Jude Fieldhouse, Anne Muirhead, Clare Foster, Louise Sowden, Sophie Rudge.
1981 reunion, 19 November 2011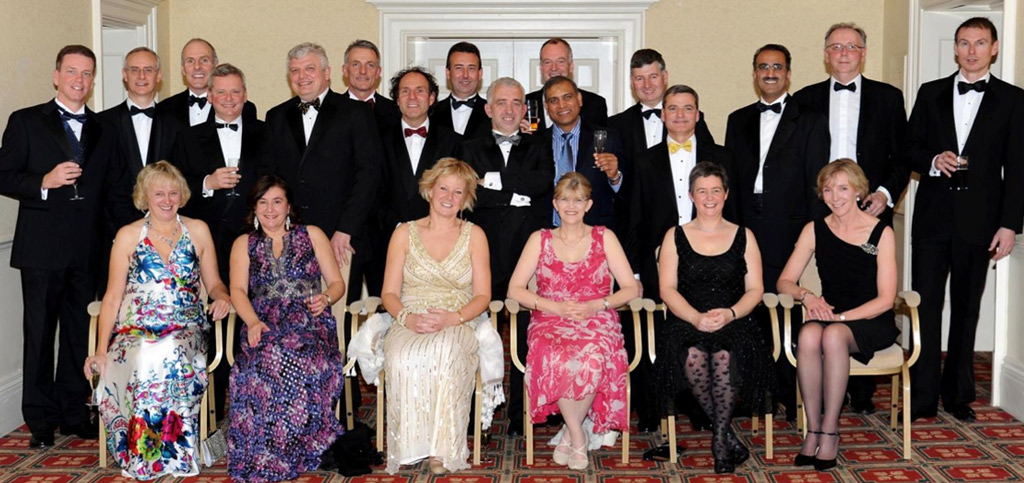 Back Row: Andy Whimpanny, Rhodri Bevan, Gordon Shovlin, Tim Davies, Dave Eley, Dave Lane, Kevin Hardwick, Andy Lems, Mike Wilcox, Abhaya Soneji, Kevin Allen, Pete Sedgewick, Stuart Lawson, Tidu Mankoo, Robin Lesley, Adrian Smith.
Front row: Sue Battersby, Fiona Eley, Kay Shovlin, Penny Hedley Smith, Ann Millward, Diane Martin.
1996 reunion, 5-6 November 2011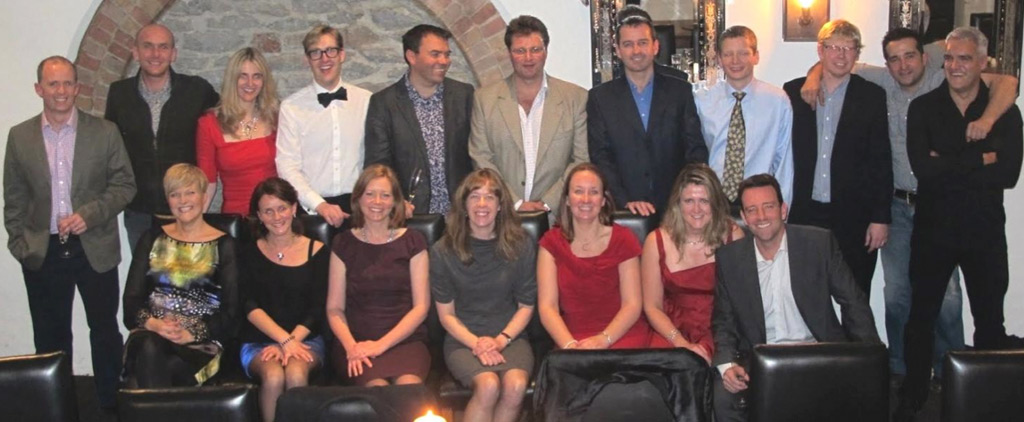 Back Row: Chris Crook, Chris Davies, Alison Winham (Brokenshire), Dafydd Davies, Tom Hartridge, James Kingham, Ian Byford, Mark Eddleston, Liam Addy, Hooman Sanaty, Simon Watson.
Front row: Kate Starling (Betts), Suzanne Gamon (Hart), Fiona Leese (Bain), Catherine Matthews (Tothill), Carol Gough (Somerville Roberts), Ciara Scott, Mike Edwards.
2006 reunion, 12 November 2011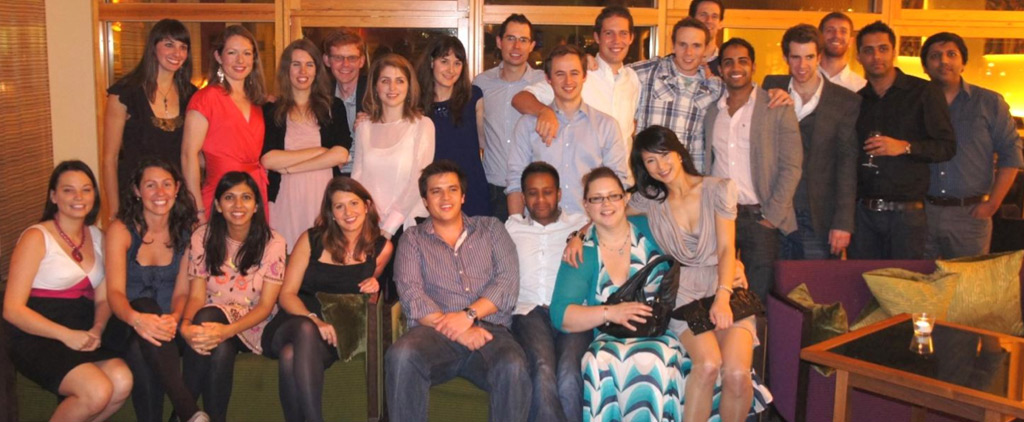 Back Row: Samantha Stewart, Georgina Cartwright, Rachel Windhaber, Oskar Mason, Kellie-Jo Hall, Lucy Jones (Farrant), Tim Jones, James Crossland, Simon Burgess, Ric Brown, Simon Madigan, Imran Nasser, Chris Chisholm, Tom McHugh, Rushin Patel, Harman Chahal.
Front row: Claire Dunbar, Hannah Woolnough, Kali Patel (Ranshi), Katie Ernst (Noble), Simon Ernst, Sandeep Achar, Anni Bedford, Tina Lui.